We offer a wide variety of flags, including:
State, Local, & Territorial
Handheld and Grave Marker Stick Flags
Single-Sided & Double Reverse Flags
Indoor & Parade Flag Sets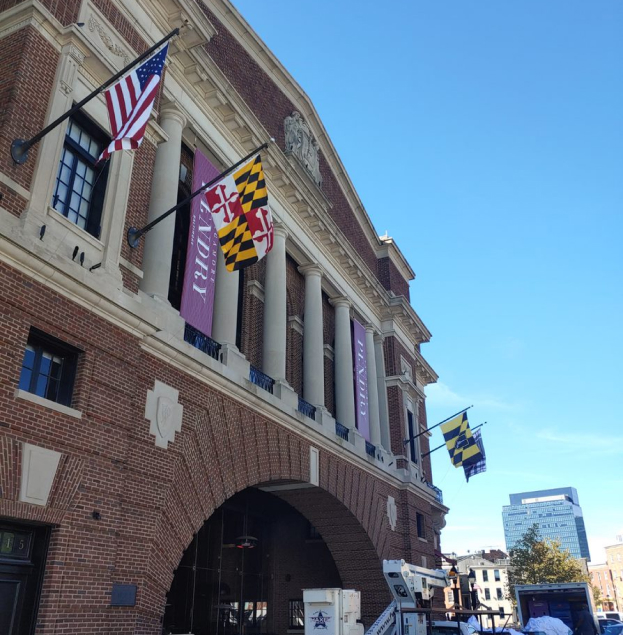 Different use cases for our
products:
To adjust for a variety of environments, you can order a flag in the following materials:
Polyester and Polycotton Flags
I am writing this letter as a testimonial for F.W. Haxel Flags and Banners.
My organization was established September 7, 1947 as the Baltimore Colts' Marching Band in which continued to operate throughout the years 1951/52 and 1984/95 when Baltimore lost the Colts twice and with the establishment of the Baltimore Ravens Football Team in 1996 our band became Baltimore's Marching Ravens.
Over 75 years, F.W. Haxel has produced all of our flags, banners and recruitment displays and has the honor of having their flags and banners in the Pro Football Hall of Fame.
I cannot say enough wonderful things about F.W. Haxel Flags and Banners. They give quality, great prices, fantastic designs, and long lasting products. They work with you until you are totally satisfied and show great pride in serving you as a customer and a friend.
On a personal note, I have worked with four generations of the Haxel Family and I have seen first hand the dedication to their customers.
Respectfully Submitted
FW Haxel has been a very strong partner of ours for 10+ years and we can always count on them. They always deliver high quality, long lasting products and I would recommend them to anyone. Their ability to troubleshoot and to come up with solutions to meet our needs is incredible. They are truly experts in this industry
We have used FW Haxel for more than 5 years now and have received nothing but great customer service and competitive pricing for all our flag needs, including custom printed flags for our company.
I've been working with FW Haxel for years and I can tell you that they are fantastic at what they do! They've made many flags and awnings for different locations of Christopher Schafer Clothier and Sharp Dressed Man. Our current flag setup on Aliceanna Street is gorgeous, I love the motion of the colorful flags it catches my eye every time I round the corner!
I have been the Chief Engineer at Under Armour for the past 5 years and we have partnered with Haxel for all of flag purchases at the Tide Point Campus. Haxel has provided us with excellent customer service and pricing for all of our purchases. We have worked with Haxel to get the appropriate flags for campus which include custom Under Armour flags. I highly recommend this company to anyone looking for any flags needed at your commercial properties.
We have worked with F.W. Haxel for about 10 years. In those years they have made the process of getting our flagpoles ordered, installed, and inspected a breeze. Would highly recommend them for any needs you have and will continue using them for our projects going forward.
Working with Haxel has been a pleasure for years. You can trust them with all sorts of Banner Replacements, even urgent ones with short turnaround times. And the work is always high quality. The best part about working with Haxel is that the work is always done thoughtfully, as their staff members take pride in providing high quality, and friendly customer service. We hope to continue working with Haxel in the years to come!
FW Haxel has played a crucial role in helping to expand our branding efforts and creating a greater sense of identity here in National Landing. We greatly appreciate FW Haxel for their professionality, flexibility, and attention to detail as they've worked to install and maintain roughly 700 banners in Crystal City, Pentagon City, and Potomac Yard.